KNIGHT LIGHTS
November 2002
MONSIGNOR O'CONNELL COUNCIL 8072
BUSINESS MEETINGS THIRD THURSDAY OF EVERY MONTH
7:30 P.M. OFFICERS/COMMITEES
8:15 P.M. ROSARY
8:30 P.M. GENERAL BUSINESS
@ ST. JUDE SCHOOL, MEDIA ROOM

Grand Knight's Message
Dear Brothers:
Thank you to all who contributed to getting this newsletter back in circulation. We have a great team assembled. PGK Fred D'Astoli is our editor. He sets submission deadlines, gathers reports, and then, creates the text and basic layout of the main document. When this is done, he emails the document to our web distributors, Bob Tarn and Bryan Bruno. Bryan and Sharon Bruno will splash up the document with graphics and post it on the council website; http://kofc8072council.faithweb.com/council.html.
After receiving the final draft of the newsletter from our webmasters, Bob Tarn emails the newsletter to all the members who gave us their email address. Bob keeps track of all the members' preferences for email or hard copy distribution of the newsletter and maintains the accuracy of the lists.
After Bob sends out the email version of the newsletter to the membership, he then emails Brother Knight John Zitzelberger with the list of members desiring a hard copy in the mail. John is our hard copy distributor. He will get the newsletter printed, posted and mailed. John has two children at St Jude's school. Each month, he will arrange to have some of our school children earn some service hour time by folding the newsletters and applying the postage. By splitting the responsibilities into three categories, we will keep the quality very high and distribute the large sacrifice of time and effort required for this essential council activity.
I am not sure how to cover the events of the last four months without filling an entire newsletter with just my report and a list of acknowledgements.
First, It is a great privilege and honor to serve as your Grand Knight. Our Officers and Program Directors are highly skilled leaders and administrators. They are very devout and conscientious Catholic gentlemen, husbands, fathers, businessmen and citizens. Guided by our Worthy Past Grand Knights, Trustees, Financial Secretary and Treasurer, we have put in place a strong leadership team. I will let their reports speak for them. If you have not seen these men in action yet, you are in for a very pleasant and inspiring experience.
We have a lot to do. This year is going to be very fun and fulfilling for us, for our families and for the community we love and serve. For example, our planning session last Saturday was thrilling. Some thirty men, including; Father Bill, Pastor of St. Jude, Fr. Dave Heney, Pastor of St. Paschal, Dea. Joe Manion and Dea. Dick Dornan came together for three hours in the early morning to share scriptures, prayers, good food and ideas. We will be gathering a rich harvest from what was planted with the aid of the Holy Spirit on that day. Three knights were at the heart of that event. They have earned our sincerest thanks. They are George Brennan (facilitator), Bruce Gorman (administration), and Louis Ruiz (logistics). Several others helped in planning and phone calling. Stay tuned for the outcome and reports from this meeting.
Last September, our Deputy Grand Knight David Griffin organized our council to set up, cook and clean for the St. Jude School back to school picnic. David's wife Kelly was the chairperson for the event with the Women's Christian Service Organization. We served well over 200 people and raised over $1300.00. This is just the beginning of what we know will be a strong and rewarding partnership with St. Jude's School in service to our children.
Our Tootsie Roll Drive is underway and well on the way to reaching our goal of $2000.00. Chairman Bob Tarn has returned this year and has set up a great campaign.
As I am writing this, it is getting quite late at night and I am determined to send this off to Fred D'Astoli to get this newsletter rolling, so, I will end here. If you are reading this newsletter and it has been some time since you came to a meeting or served on an event or committee, please consider doing so. There is a great wave of renewal moving through our Council and our Catholic Community. Come, "taste and see".
Vivat Jesus!
Seth Wegher-Thompson, GK, FIC
__________________________________________________________________________________
Upcoming Events
Deputy Grand Knight's Report
NO REPORT SUBMITTED
Membership Committee
NO REPORT SUBMITTED
CHURCH DIRECTOR
NO REPORT SUBMITTED
COMMUNITY DIRECTOR REPORT
The Community Involvement Committee exists to identify where help and assistance
are needed for St. Jude parishioners.
Generally, when a parishioner calls the rectory for help, our committee will be notified by
Marilyn Greviere. Acting on Marilyn's call, our committee acts to render the assistance needed; e.g., communion to sick and dying at the residence, nursing home or hospital
assisting with funeral arrangements,etc.
It is a blessing to be able to help those in need, and the Community Involvement Committee is a living example of the Kof C charitable ministry.
Bill Chiaro
COUNCIL DIRECTOR REPORT
NO REPORT SUBMITTED
FAMILY DIRECTOR REPORT
Planning for the 02/03 Family Activities is in the early stages. There was a lot of interest in the Social aspects of Family at our recent Planning session. Toward this end, we will likely have 2 Family Picnics per year - one in Spring and one in Fall. I will be presenting a detailed plan with events at the November officers meeting. If you have any ideas for "Family" or would like to help with Family actvities please feel free to email me at KPRMLarkin@aol.com or phone me at 818-597-2520.

Thank-you

Kevin Larkin
YOUTH DIRECTOR REPORT
15th Annual Tootsie-Roll Drive for the Mentally Disabled
The 15th annual Columbian Foundation fund raiser for people with mental disabilities was a tremendous success. Nearly $3,200 was collected during the weekends of October 19 & 26 at a number of locations throughout the area. This tops last year's collection of $1,500, and is more than 50% over our goal $2,000 for this year! The proceeds will be directed to the Association for Retarded Citizens of Ventura County (Arc-VC). Arc-VC is committed to securing, for all people with developmental disabilities, the opportunity to choose and realize their goals of where and how they learn, live, work and play. For more information about Arc-VC, please visit http://www.thearc.org/.
The fundraiser was a lot of fun, too. Handing out donated Tootsie Rolls to anyone kind enough to deposit a donation of any size into our collection cans, we were rewarded with the satisfaction of giving people an opportunity to help a very worthy cause. Volunteers contributed a total of 135 hours, including 46 hours by Girl Scouts, Boy Scouts, and family members of member Knights. Funds were collected at the Thousand Oaks Post Office, Vons Market in Agoura, and all masses at St. Maximilian Colby and St. Jude the
Apostle churches. Boy Scout Troop 745 planned to collect at the Agoura Mann 8 Theater on Saturday evening, October 26, but the theater management did not permit it.
The following volunteers participated:
Knights
Al Liddicoat
Jim Ferguson
Ed Sarango
Bob Tarn
Dennis Miller
Dick Crowley
Gerry Weisbecker
Seth Wegher-Thompson
Nick Schrodt
Terry Lilly
Louis Ruiz
Kevin Larkin
Ron Bodigheimer
Shelby Terry
Steve Moore
Mike McCarthy
Larry Conti
Bryan Bruno
Frank Campana
Dick Crowley
Duke Ehrhardt
Ray Cambalik
John Amott
Charles Wentrup
Fred D'Astoli
John Zitzelberger
Rich Wormus
Tom Whittington
Other Volunteers
Barbara Wegher-Thompson
Ian Wegher-Thompson
Theresa Wegher-Thompson
Kathy McBride (Leader, Troop 181)
Jordan Jeworski (Troop 181)
Emily McBride (Troop 181)
Kate Prechtl (Troop 181)
Gina Conti & Conti children
Michael Alexandar (St. Max Jr. High)
Peter John Alexander (St. Max Jr. High)
Victoria Trepany (Jr. Girl Scout)
Marilyn Cothran (ARC-VC)
Chris Chiarappa (ARC-VC)
Laura Palmer (ARC-VC)
Clayton Wade (ARC-VC)
Bob Koch (Leader, Troop 745)
Tim Koch (Troop 745)
Robert Koch (Troop 745)
Ed Cass (Troop 745)
Susan Cass (Leader, Troop 181)
Troop 181 Brownie Scouts
Pictures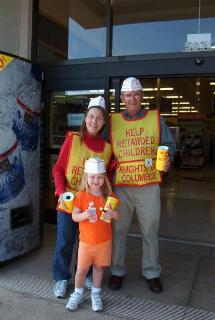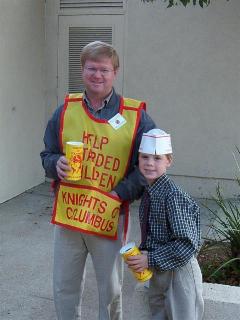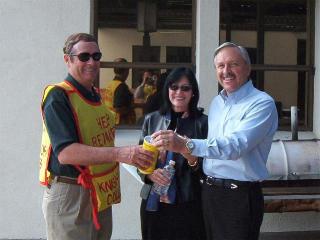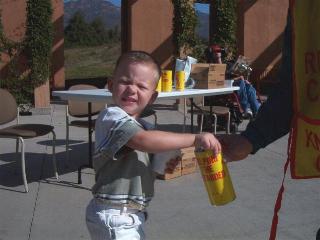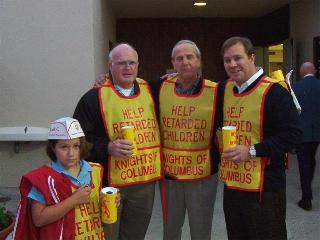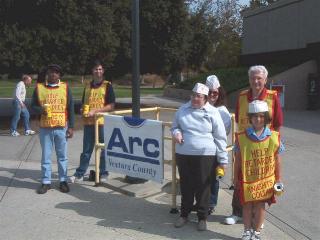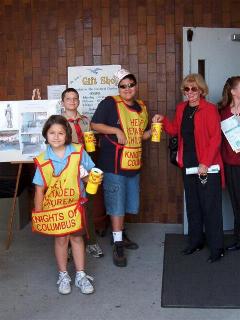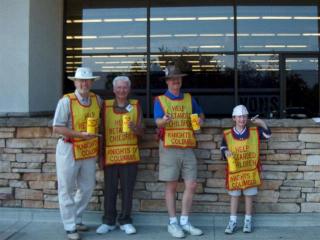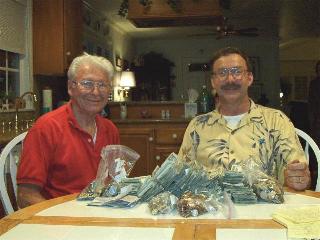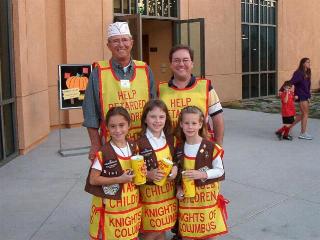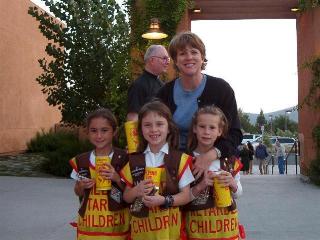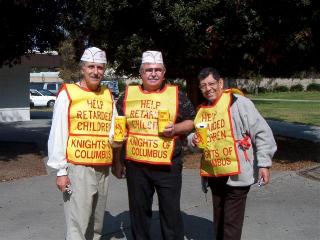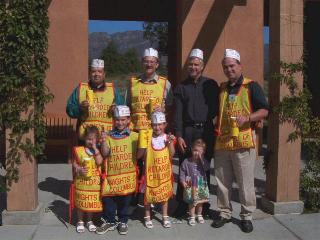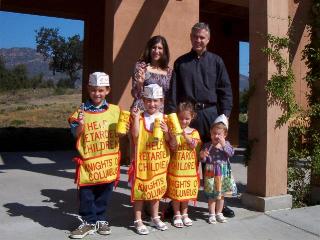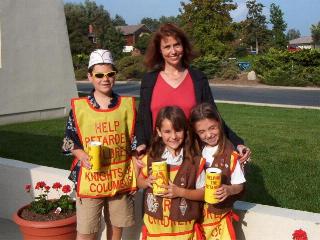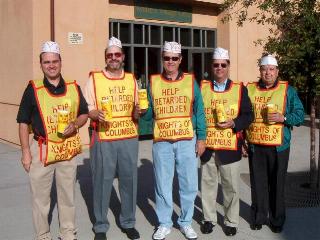 Submitted by Bob Tarn, Advocate, Youth Program Director
PRO LIFE DIRECTOR
Pro Life issues have always been at the fore front of positions of The Knights of Columbus. It is only with the beginning of this fraternal year that our Council has elected to follow the State-wide format of establishing a separate standing committee to coordinate Pro Life efforts within the Council and through out the community.
To get the ball rolling, Seth Thompson our Grand Knight, asked me to be the committee director for the initial year. We have begun reaching out, and hope to establish a network of communication so we can promote the cause. The Knights of Columbus will be working directly with the Respect Life Ministry at St Jude Catholic Community in support of their efforts.
In addition, we have reached out to the other three parishes in the Conejo Valley and will be setting up regular contact to provide mutual support for each other's programs as well as common planning sessions and events.
You will have already noticed fruit of these labors in our announcement at St Jude's regarding the Pro Life speaker, Scott Klusendorf, hosted by St Max's Respect Life Ministry, and the distribution of Pro Life Voter's Guides the week-end prior to the election.
We want to continue in these types of "support" activities as well as establishing ongoing and one of a kind events. We are still in early planning for those activities. Your input and participation are encouraged.
If you would like to get involved, even a little, please contact Bruce Gorman at (805) 376-1377. We look forward to accomplishing much this year, and into the future.
Bruce Gorman
Here is an opportunity for one or two Knights to take on a service project that will GREATLY benefit St. Jude School. I spoke with Sharon Rhatigan the other day. She runs the scrip fundraising program for the school. They raise $20,000 - $30,000 every year by getting people to purchase scrip coupons and swipe cards for vendors in the community. I think we could double or triple that amount. Here's how.
Currently, the school publicizes the scrip program in handouts to the students and the parish. They then depend on participants to fill out order forms and get them to Sharon who fills the orders and distributes the scrip. She does this by hand or by leaving the filled orders at the church and school offices. The administration work she does just to maintain the vendor accounts and distribute the order forms is a big job all by itself. I'm sure that if she had someone else to do the marketing and the distribution end the program would be much more efficient and profitable. This is money just waiting to be collected for our school.
Do you have some marketing or sales skills? Are you interested in controlling a service ministry you can run from your house, on your own time that will keep you in touch with hundreds of people and raise tens of thousands of needed dollars for our children? Oh yes, and did I mention, 'NO HEAVY LIFTING OR DIRTY DISHES'?
My idea is this. You could help spread the word about the program and maintain 'client accounts'. Make the program easier for people to participate in by helping them place their orders and receive the scrip. I am praying that there is a Brother Knight out there who wants to use some of the business and people skills developed over a career to make a big difference in the Catholic education of our children.
Call me if you want to kick the idea around.
Vivat Jesus!
Seth Wegher-Thompson GK (805) 241-6446 kcseth@earthlink.net
God does not demand that I be successful.
God demands that I be faithful.
When facing God, results are not important.
Faithfulness is what is important.
Mother Teresa
"In My Own Words"
KNIGHT LIGHTS PATRONS FOR 2003
IN THIS SECTION, WE WILL POST THE NAMES OF THOSE BROTHER KNIGHTS WHO MAKE A DONATION OF $10 OR MORE PER YEAR TO HELP PAY FOR THE COST OF DISTRIBUTING THIS NEWSLETTER.
PLEASE CONTACT THE FINANCIAL SECRETARY.
CHARITY – UNITY – FRATERNITY – PATRIOTISM
Published for, and in the interest Monsignor O'Connell Council #8072 of the Knights of Columbus, P.O. Box 3216 Westlake Village, CA 91359